Legacy of Leadership: Accomplishments
President Ronald M. Berkman has led initiatives to attract, retain and graduate students, expand the campus, enhance partnerships, increase philanthropy, boost research and much more. Here are just some of his accomplishments.
---
Student Success
Affordability CSU implemented a number of initiatives that have reduced the cost of earning an undergraduate degree by more than $3,350 annually.
Multi-term registration CSU is the first state university in Ohio to offer multi-term registration, enabling students to plan and schedule courses for fall, spring and summer terms at the same time and ensuring access to required courses.
Adjusted tuition band CSU expanded its tuition band, enabling students to take up to 18 credit hours per semester without incurring additional charges.
Recruitment 2016 saw the largest freshman class with 1,926 first-year students and increases in GPA and ACT scores.
Graduation Rates increased 60 percent.
---
Campus Transformation
Student housing 1,000 students now live on campus.
Center for Innovation in Medical Professions The new CIMP building houses the Northeast Ohio Medical University (NEOMED)/CSU Partnership for Urban Health, which is training primary care physicians to serve urban areas.
Donald E. Washkewicz Hall A 100,000-square-foot addition to the Washkewicz College of Engineering provides students and faculty with state-of-the-art labs, learning spaces and classrooms.
School of Film & Media Arts CSU is the first university in Ohio to have a stand-alone film and interactive media school to uniquely prepare students for careers in this growing field. The school will further the development of Cleveland as a center of media production.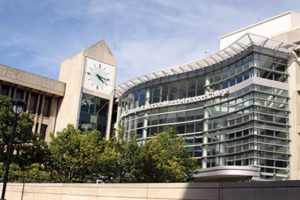 Jack, Joseph & Morton Mandel Honors College The honors program was elevated to College status, thanks to support from the Mandel Foundation and the Mandel Supporting Foundations. Renamed in honor of Jack, Joseph and Morton Mandel, the College became CSU's ninth and moved into renovated space in the Main Classroom Building.
Medical Mutual Tennis Pavilion A gift from Medical Mutual enabled CSU to become the first and only Horizon League school with indoor tennis facilities on campus.
Other buildings The Student Center and Julka Hall, home of the College of Education and Human Services and School of Nursing, were started during President Michael Schwartz's tenure and completed under Dr. Berkman.
---
Philanthropy
ENGAGE: The Campaign for Cleveland State University CSU's first campaign raised $114 million, surpassing its $100 million goal two years ahead of schedule, providing funds for scholarships and initiatives that promote student success.
Fundraising The University's endowment has doubled; Dr. Berkman personally raised over $60 million.
Ahuja gift A $10 million gift from alumnus Monte Ahuja and his wife Usha was the largest in CSU history to that point, naming the business college the Monte Ahuja College of Business.
Washkewicz gift A $10 million gift from alumnus Don Washkewicz and his wife Pam, with a matching $10 million gift from the Parker Hannifin Foundation, is the largest in CSU history, naming the Washkewicz College of Engineering.
---
Partnerships
Playhouse Square The original vision for the theatre program's move into Playhouse Square was expanded into a CSU Arts Campus for theatre, dance, art and The Galleries @ CSU.
Northeast Ohio Medical University CSU joined forces with NEOMED to create a dual-campus medical program for training primary care physicians to serve the health care needs of inner city populations.
Cleveland Metropolitan School District CSU established an "education park" that encompasses three CMSD schools on the CSU campus: Campus International School, Campus International High School and MC2STEM High School.
Parker Hannifin One of CSU's strongest partnerships supports a Human Motion and Control Laboratory where researchers are advancing prosthetics and orthotics, numerous other labs, equipment and technology, an endowed professorship, scholarships, campus buildings and more.
Other collaborations Ongoing and enhanced relationships with University Hospitals, Cleveland Clinic and MetroHealth hospitals; St. Vincent Charity Hospital behavioral health initiative addressing the opioid crisis; several Internet Of Things (IOT) initiatives.
1973
Bachelor's degree in political science from William Paterson College; full scholarship to Princeton University
1977
Ph.D. in political science from Princeton; begins teaching career at Princeton's Woodrow Wilson School. Later faculty positions include Brooklyn College (part of the City University of New York – CUNY – system) and the CUNY Graduate Center, and visiting professorships at the University of California, Berkeley, New York University, and the University of Puerto Rico.
1990-1997
CUNY as University Dean for Urban Affairs; University Dean for Academic Affairs; Founding Dean of the School of Public Affairs at CUNY's Baruch College.
1997-2005
Florida International University as Dean, College of Urban and Public Affairs; Executive Dean, College of Health and Urban Affairs; Provost, Executive Vice President and Chief Operating Officer
2009-2018
President of Cleveland State University