The Forest City. Home of rock and roll. Hollywood of the Midwest? Cleveland may soon have a new nickname, thanks to CSU's new School of Film & Media Arts. Read more >>
CSU is one of the nation's most environmentally responsible colleges, according to the 2018 edition of The Princeton Review's Guide to 399 Green Colleges.  Read more >>
A phone call to an alumna began a five-year legal process culminating in the exoneration of a man who had spent 15 years in prison for a murder he did not commit.  Read more >>
Were you one of the many alumni who came home to CSU for Homecoming 2018? For those that came from near and far, thank you. We enjoyed talking with you, sharing memories and showing you all that CSU has become. Read more >>
Marking its 11th straight year of enrollment growth, CSU welcomed more than 1,950 first-year students to campus fall semester, as well as 30 new faculty members.  Read more >>
CSU's Dan T. Moore MakerSpace is officially open for business, enhancing Engaged Learning opportunities and helping produce "Ready-to-Go" engineers to meet industry needs. Read more >>
Radiance, CSU's annual fundraising event to support student scholarships, raised a record $1.7-plus million in 2018, bringing its seven-year total to over $7.8 million to help students who are a few dollars short graduate on time. Read more >>
Behind-the-scenes visits to well-known (and little-known) Cleveland sites...fun-filled family outings...world tours...the CSU Alumni Association's calendar of events has something for everyone. Read more >>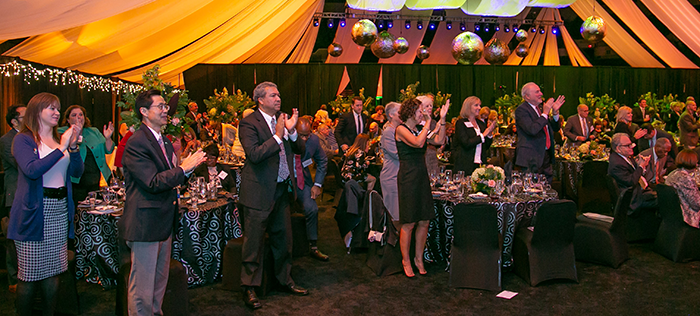 From a law man to a scientist and a hoops star to a poetess, CSU's 2018 Distinguished Alumni Award recipients represent the wide-ranging power of a CSU education.
Twelve accomplished alumni were celebrated at the 28th annual event, co-hosted by the Alumni Association and the University. Read more >>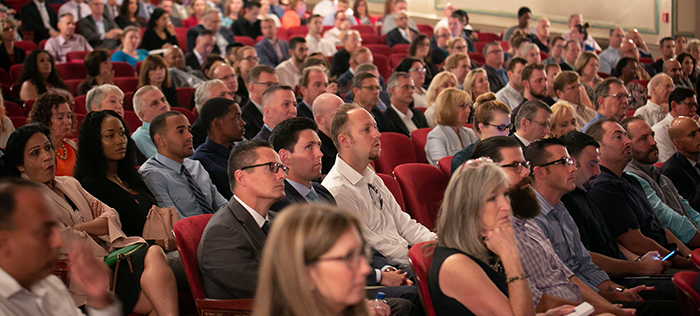 The Bernie Moreno Center for Sales Excellence at Cleveland State University launched with an inaugural event featuring Robert Cialdini, widely regarded as the worldwide expert on influence and persuasion. The author of the groundbreaking books Influence and Pre-suasion discussed how to increase the likelihood of getting "yes" to requests, proposals and recommendations. Read more >>
CSU's Cleveland-Marshall College of Law had the highest passage rate for first-time takers of the July Ohio Bar Exam. The school's 93 percent passage rate was well above the state average of 79 percent.
This is the second consecutive Ohio Bar Exam in which C|M|LAW had the top passage rate, following its 82 percent pass rate for the February 2018 exam. Read more >>
A team of researchers led by CSU received a $1.69 million grant from the National Institutes of Health to improve treatment of type-2 diabetes. The effort will use innovative human tissue modeling to better assess potential non-invasive therapies that could improve quality of life for patients. Read more >>