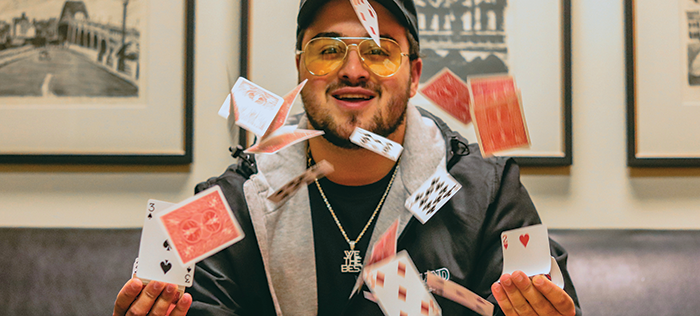 A tin can, three cups, four balls, some string, a deck of cards and, of course, a magic wand. That's all it took to get Elie Haoui hooked.
"At four years old, I would show my family magic tricks and they reacted as if I was amazing, as if I was David Blaine or David Copperfield," Haoui says about the first magic kit his mother bought him. "Obviously, I wasn't that great but it still boosted my confidence a lot."
Magic, it turned out, was also a way to deal with bullies.
"I wasn't popular in middle school," Haoui says. "My thing was, 'OK, I got picked on, I've got to think of a cool magic trick to show the bullies.' And I did, and they would stop bullying me. They thought it was cool."
Over the years, Haoui practiced his craft a lot ­— about six hours every day — and today many people think what he does is cool. The CSU freshman has performed his card tricks and illusions across the country and abroad, and in the process has amassed a sizeable social media audience of more than 210,000 Instagram followers.
Haoui, known as Elie Magic to his followers, arrived on the Cleveland State campus in August 2018 and has quickly become a name. It's not uncommon for fellow students to knock on his residence hall door asking to see a magic trick, or for Haoui to perform an impromptu stunt in the Viking Marketplace.
Browse his Instagram account and you get a sense of his jet-setting lifestyle. There are photos of Haoui on private planes and in fancy cars, and videos with YouTube creators Jake Paul, Logan Paul and Kevin Lustgarten.
His biggest challenge has been balancing his classes with his tour schedule. The marketing major estimates he performs 150 to 200 shows a year. He's on the road several days a week, performing at schools, corporate events and private parties. He also tours regularly with his mentor, CSU alumnus Rick Smith, Jr., BBA '03.
Their friendship began when Haoui was 16 and asked to shadow Smith for a high school project. Smith, a Guinness Book World Record card thrower who's performed on national television and around the globe, took Haoui under his wing and signed him to his agency. Smith also told Haoui to attend Cleveland State.
"That's the main reason I went here," Haoui says. "Rick went here for marketing, so I am going here for marketing.
"I just love CSU. Everyone has been so great. I love everything about CSU. I wouldn't trade this for the world."
Haoui has dialed back from 18 credits his first semester and is taking most of his classes online now. But make no mistake, the goal is to finish and earn his degree, he says.
"If I were to drop out of CSU, Rick wouldn't hire me for shows," he says. "He wants me to graduate from CSU. It's going to take me a little longer because of how slow I am going with classes, but I will get there."
In the meantime, Haoui is working with Smith on several projects, including Magic Gives Back, an initiative that benefits local schools and has raised more than $500,000.