A Tip of the Viking Helmet
Prestigious Election
Roland V. Anglin, dean of the Maxine Goodman Levin College of Urban Affairs, was elected to the National Academy of Public Administration (NAPA).
NAPA is an independent, non-partisan nonprofit chartered by Congress to help government leaders solve critical management challenges. Though it works primarily in the United States, the Academy's reach extends to governance challenges around the world.
Election to the Academy is one of the highest honors for those engaged in the study or practice of public administration. The select group of Academy fellows includes former cabinet officers, members of Congress, governors, mayors and state legislators, as well as prominent scholars, business executives and public administrators, who share their expertise on issues such as performance measurement in government, attracting and retaining top talent, and using technology to improve public sector effectiveness.
Ship Ahoy
Professor Emeritus Timothy Runyan received the David A. O'Neil Sheet Anchor Award from the National Maritime Historical Society. He is a trustee of the organization and was recognized for his work as an educator and leading advocate for the nation's maritime heritage community.
Dr. Runyan, chair of the National Maritime Alliance, has long furthered maritime heritage preservation. He helped save the historic SS William G. Mather and place her on Cleveland's lakefront as a floating museum. He was president for 10 years of the Great Lakes Historical Society and was a founder and now trustee emeritus of the Great Lakes Science Center. From 2007-11, he was acting director of the Maritime Heritage Program, U.S. National Oceanic and Atmospheric Administration, Office of National Marine Sanctuaries.
During his career at CSU (1969-1997) he was assistant dean of Arts and Sciences, chair of the History Department, director of the Classical and Medieval Studies program, and more.
Supreme Court Honors Two
CNN legal analyst Avery Friedman, a CSU alumnus and adjunct law professor, and Michael Borden, associate dean of the Cleveland-Marshall College of Law, were honored for their legal ethics and professional development in the Great Room of the U.S. Supreme Court. The event, A Celebration of Excellence, was presided over by Clarence Thomas, associate justice of the Supreme Court.
Friedman, JD '72, has appeared for 18 years as a weekly legal analyst on CNN's Newsroom with Fredricka Whitfield. After several years in private practice, Borden joined C|M|LAW in 2004, where his teaching and research interests have included corporate law, contracts and litigation. He has served as associate dean since 2016.
Both men are former presidents of the William K. Thomas American Inn of Court, selected by the national offices of the American Inns of Court as one of the top Inns in the nation. The American Inns of Court movement was founded by the late Chief Justice Warren E. Burger and is focused on promoting legal excellence, civility, professionalism and ethics on a national level. Its membership includes over 30,000 federal and state judges, lawyers, law professors and law students.
Royal Treatment
While in London leading a study abroad experience for students, Kim Ruggeri found herself one of 1,200 people invited to the grounds of Windsor Castle for the wedding of Prince Harry and Meghan Markle.
Her front row seat at the entrance to St. George's Chapel gave her a VIP view of royalty and celebrity guests. Her invitation came courtesy of a colleague at Bucks New University, who received an invitation for two because of volunteer service to the community.
A lecturer in the Monte Ahuja College of Business, Ruggeri is the faculty advisor for the student chapter of the American Marketing Association at Cleveland State.
Top Writer
Richard Perloff, professor of communication, political science and psychology, won the top award for best newspaper essay writing at the 2018 All-Ohio Excellence in Journalism Awards sponsored by the Press Club of Cleveland. He was recognized for a series of op-eds published in the Plain Dealer.
The pieces cited in the award include "What the moon hoax story and other fake news of the past can teach us today," "Recapturing July 4's good feelings of unity and patriotic pride" and "Reconsidering Dennis Kucinich 40 years after his Cleveland mayoral run."
Dr. Perloff joined CSU in 1979 and has served in numerous leadership capacities, including director of the School of Communication from 2004 to 2011. He is considered a national expert on perceived media effects, persuasion and political communication.
First Fellow
Megan Hatch, assistant professor of urban studies, was selected as the inaugural research fellow of Temple University's Center for Public Health Law Research. In that role, she will create a database of eviction laws in 40 of the largest U.S. cities to better assess the impact of these policies on communities, families and overall public and economic health.
Dr. Hatch has conducted multiple research projects designed to better assess and improve policies aimed at renters and their relationship with landlords. These include landlord-tenant laws, source of income discrimination, and criminal activity nuisance ordinances. Her work with Temple builds on research funded by CSU's Levin Women's Fund.
Engineering professors Eric Schearer and Chris Wirth were both named winners of the CAREER Award, the highest recognition given by the National Science Foundation to early-career faculty. The awards include a multi-year grant to be used to advance innovative research, while also providing mentoring and training to assist in developing the next generation of higher education leaders.
Dr. Schearer, assistant professor of mechanical engineering, is developing a functional electrical stimulation system for neuroprosthetic devices. The technology will better control muscle stimulation to restore reaching movements for people with paralyzed arms due to spinal cord injuries.
Dr. Wirth, assistant professor of chemical and biomedical engineering, is leading a project to better measure the motions and forces that arise in a concentrated suspension of nanoparticles.
The Faculty Early Career Development (CAREER) program honors individuals who are working on cutting–edge scholarship with significant societal impact who also have the potential to serve as academic role models in research and education in their institutions and nationally.
The Cleveland State University Foundation's annual Donor Recognition Event brought hundreds of supporters to campus for a celebration of philanthropy.
Held in CSU's new School of Film & Media Arts, the event gave guests an opportunity to tour the facility and meet aspiring film students. Read more >>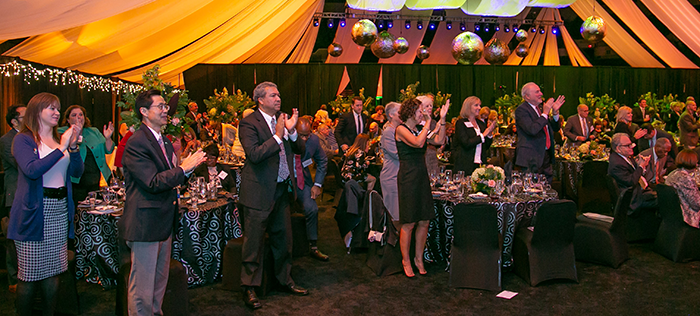 From a law man to a scientist and a hoops star to a poetess, CSU's 2018 Distinguished Alumni Award recipients represent the wide-ranging power of a CSU education.
Twelve accomplished alumni were celebrated at the 28th annual event, co-hosted by the Alumni Association and the University. Read more >>