Cleveland State has once again been selected by The Wall Street Journal as one of the best universities in the United States.
In the latest edition of The Wall Street Journal / Times Higher Education (THE) College Rankings, CSU was ranked in the top 500 for the first time, out of over 2,400 four-year colleges and universities. CSU was included in the "400 tier" of the rankings after previously being in the "600-700 tier" and was cited for commitment to access and student success as well as expanded research and community engagement initiatives.
"Cleveland State's continued advancement in The Journal/THE rankings is yet another example of the University's elevation as a first-in-class urban research university, with a focus on student success, community connectivity and societally relevant scholarship," says President Harlan Sands.
"We are confident that our newly announced strategic priorities will assist us in furthering our mission to provide the best education possible for our students, for the ultimate benefit of our community and society as a whole,"he adds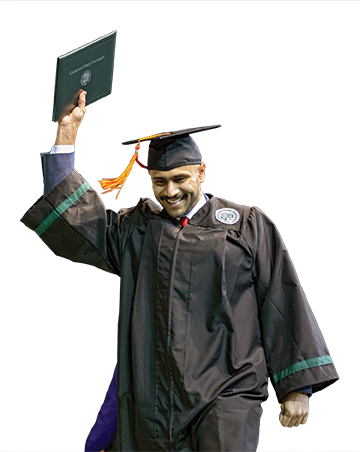 A study by The New York Times and the Urban Institute found that CSU's graduation rate is seven percentage points higher than expected, compared to other universities with similar student populations. The report looked at the growing college dropout problem and identified universities that are exceeding their peers in helping students graduate on time with less debt – like CSU.
CSU is part of a statewide partnership, led by College Now Greater Cleveland, selected to join Degrees When Due. This national initiative, sponsored by the Institute for Higher Education Policy, seeks to assist students who have some college credits to complete their degrees. Read more >>