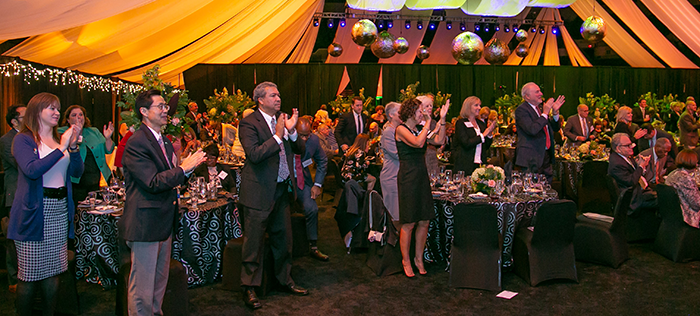 Distinguished Alumni Awards
From a law man to a scientist and a hoops star to a poetess, CSU's 2018 Distinguished Alumni Award recipients represent the wide-ranging power of a CSU education.
Twelve accomplished alumni were celebrated at the 28th annual event, co-hosted by the Alumni Association and the University.
Approximately 400 guests attended the reception, dinner and salute to the winners at the Wolstein Center, which was transformed into an elegant venue with sparkling décor for the biggest night of the Alumni Association's year and the conclusion of Homecoming Week.
"These men and women earned their degrees through hard work and determination and now excel in their careers and their lives. They are a credit to our Viking family, which now numbers more than 126,000 alumni worldwide," said Nikki Byrd, BA '00, president of the CSU Alumni Association.
George B. Davis Award for Service to the University
Thomas E. Hopkins, MA '82, joined The Sherwin-Williams Company as a graduate student intern and stayed with the firm for his entire career. He retired as corporate officer and senior vice president, human resources, a position that he held for nearly 20 years.
The Chagrin Falls resident has served on the CSU Foundation board of directors since 2012 and as an Executive-in-Residence with CSU's Career Services Center. He is a former seven-year member and two-year chair of the College of Sciences and Health Professions Visiting Committee. He helped CSU establish its first-ever corporate chapter at Sherwin-Williams with over 200 alumni members. He has established three scholarships at CSU.
---

College of Liberal Arts and Social Sciences
Dee Perry, BA '81, is a Cleveland broadcasting legend. In 1989, she took a job with what was then known as Cleveland Public Radio, becoming the morning host for WCPN 90.3FM. That station became the multi-media content provider ideastream in 2001, following a merger with WVIZ/PBS. Since then she has written, produced and conducted thousands of interviews about arts and culture for radio, television and the web.
Her many honors include multiple Emmy Awards and induction into the Cleveland Journalism Hall of Fame. The Cleveland Heights resident retired from full-time broadcasting in 2016. 
---

College of Sciences and Health Professions
Maria Karasarides, Ph.D. '00, is the executive director of ImmunoOncology Development at Regeneron Pharmaceuticals Inc. Founded by physician-scientists, the firm's science-driven approach has resulted in six FDA-approved medicines and numerous product candidates in a range of diseases, including asthma, pain, cancer and infectious diseases.
Her career also includes high-level positions with AstraZeneca, ZIOPHARM, Merrimack, Infinity and Bristol-Myers Squibb. She lives in New York City.
---

Washkewicz College of Engineering
John D. Hubbard, BSME '70 and MBA '73, is the founding partner and chairman of Thermal Processing Holdings Inc., coming out of retirement in 2016 to return to the heat-treating business. From 1996 to 2000, he was the North American president, and from 2000 to 2009 the chief executive officer, of Bodycote, plc. He also is a non-executive board member of Cronite Group, a provider of high temperature resistant castings based in Switzerland. He lives in Dallas.
---

Cleveland-Marshall College of Law
Sunny Nixon, BA '00 and JD '11, is the chief administrative officer and senior counsel for the Unify Project, a nonprofit start-up that leverages the power of advanced technology to optimize an inclusive economy. She also serves as a business advisor to Cleveland Concert Co., the investor group behind InCuya Music Festival, and previously served as in-house counsel for two Ohio technology start-ups that were each acquired by Fortune 50 companies.
A life member of the C|M|LAW Alumni Association, she has served on its board of trustees since 2012. She lives in Cleveland's Warehouse District.
---

Athletics
Norris G. Cole, BS '11, enjoyed a stellar career as a Viking basketball player. Drafted by the Chicago Bulls, then traded to the Minnesota Timberwolves and the Miami Heat during the 2011 NBA draft, he played four years with the Heat, helping the team win back-to-back championship titles in 2012 and 2013.
The guard went on to play for the New Orleans Pelicans, Shandong Golden Stars, Oklahoma City Thunder and Maccabi Tel Aviv, which won the 2017 Israeli League Cup. His #30 Viking jersey was retired by CSU in 2016. 
---

Monte Ahuja College of Business
Randolph L. Kelly, BBA '79, retired after a distinguished 33-year career in public accounting.  During 23 years with Arthur Andersen, including four years in post-communist Hungary, he held various management positions, including 10 years as a partner in the audit/advisory practice. In 2002, he joined PricewaterhouseCoopers LLP, San Jose, as an audit partner focused on serving and developing the firm's high technology industry practice.
A member of the Monte Ahuja College of Business Visiting Committee since 2015, the California resident visits Cleveland regularly, devoting his time and treasure toward developing business student readiness and success.   
---

School of Nursing
Kathleen A. Hackett, MSN '17, has been a nurse for more than 30 years, with 20 years of emergency room experience, and has been affiliated with University Hospitals since 1997. For the past seven years, she has been the Pediatric Sexual Assault Nurse Examiner Program coordinator for Rainbow Babies and Children's Hospital.
Her work focuses on child abuse, particularly child victims of sexual abuse who must testify in court. Through her involvement with the Collaborative to End Human Trafficking, she promotes public awareness for children who have been exploited. She lives in Avon Lake.
---

College of Education and Human Services
Frank Fecser, BEd '73 and MEd '77, also holds a Ph.D. from Kent State University. He recently retired after 40 years with the Positive Education Program, a multi-service, special education and mental health program serving children, youth and families throughout Greater Cleveland. He served as chief executive officer for the past 20 years. Dr. Fecser co-founded the Life Space Crisis Intervention Institute and developed its certification training program.
The Cleveland resident has authored or co-authored books, articles and monographs on positive approaches to working with troubled and troubling children and youth.
---

Maxine Goodman Levin College of Urban Affairs
Calvin D. Williams, BA '15, was appointed the 40th chief of the Cleveland Division of Police in 2014. In 32 years as an officer, he has supervised the SWAT Unit and the Fourth District Vice Unit and served as liaison to the U.S. Marshal's Fugitive Task Force. He was promoted to commander of the Third District in 2006, overseeing a bustling downtown and east-side neighborhoods such as Fairfax and Little Italy. In 2011, he was promoted to deputy chief of Field Operations, where he was responsible for the entire basic patrol section, the Bureau of Community Policing, the Bureau of Traffic and special events for the Cleveland Division of Police.
---

Jack, Joseph and Morton Mandel Honors College
Joshua Rothhaas, BAUS '09, is the founder and director of Project Ember, an artistic engineering camp in California where youngsters develop problem-solving skills by designing and creating projects.
From 2011 to 2015, he was the manager and director of Tinkering School in San Francisco. In addition to expanding the flagship overnight camp, he established new day camp programming as well as after-school and weekend workshops, growing the school's outreach from under 100 youngsters to over 1,000. He lives in California. 
---

College of Graduate Studies
Virginia Konchan, MFA '09, also holds a Ph.D. from the University of Illinois-Chicago. She is the author of a poetry collection, The End of Spectacle; a collection of short stories, Anatomical Gift; and two chapbooks, That Tree is Mine and Vox Populi.
Her honors include grants and fellowships from the National Endowment for the Humanities and Scuola Internazionale di Grafica in Venice. Co-founder of Matter, a journal of poetry and political commentary, and associate editor for Tupelo Quarterly, she lives and works in Montreal.