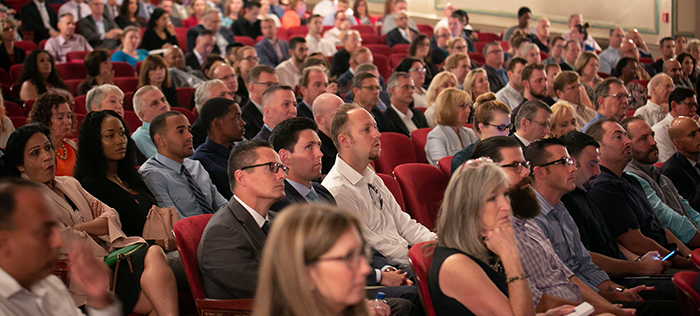 The Bernie Moreno Center for Sales Excellence at Cleveland State University launched with an inaugural event featuring Robert Cialdini, widely regarded as the worldwide expert on influence and persuasion. The author of the groundbreaking books Influence and Pre-suasion discussed how to increase the likelihood of getting "yes" to requests, proposals and recommendations.
Dr. Cialdini is the Regents' Professor Emeritus of Psychology and Marketing at Arizona State University. His book Influence: The Psychology of Persuasion has sold over three million copies, been translated into 34 languages and was named by Fortune as one of the 75 Smartest Business Books. Pre-Suasion: A Revolutionary Way to Influence and Persuade was listed on both the New York Times and The Wall Street Journal Best Seller Lists.
The Bernie Moreno Center for Sales Excellence offers an undergraduate certificate in professional sales, continuing education courses and a custom training program tailored to individual industry needs. The Center is actively seeking corporate collaborations to enhance curriculum development and training programs. Its growing list of corporate partners includes KeyBank, Oswald Companies, PNC and Swagelok Company. The Center was established through a $1 million transformational gift from Bernie Moreno, president of the Bernie Moreno Companies and former chair of the CSU board of trustees.