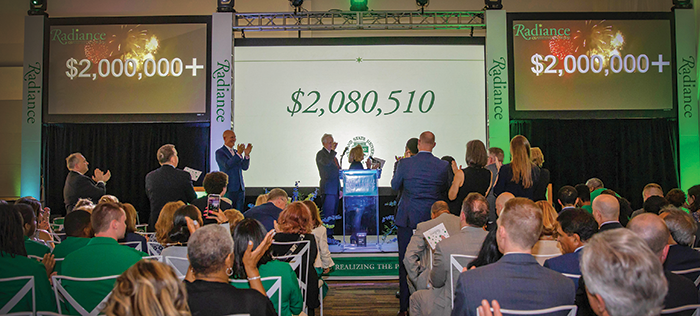 Radiance – CSU Realizing the Promise
Surpassing $2 million for the first time, a record $2,080,510 was raised by Radiance 2019!
CSU's annual initiative to support scholarships and student success surpassed its $1.75 million goal and for the sixth consecutive year, raised in excess of $1 million.
Since being introduced in 2011, Radiance has raised nearly $10 million.
More than 500 people were on hand for the May 8 Radiance celebration in the Student Center's Glasscock Ballroom.
The President's Medal, CSU's most prestigious non-academic recognition, was awarded to Barbara and Frank Sullivan and Jenniffer and Daryl Deckard. Through their philanthropy, the Sullivans and Deckards have been instrumental in CSU's nationally recognized efforts to improve educational opportunity for young adults aging out of the foster care system.
A combined gift from the couples established the Sullivan-Deckard Scholars Opportunity Program, which provides high school seniors aging out of foster care with full tuition, year-round room, board and work-study scholarships, and a comprehensive support system to succeed at CSU.
An additional gift from the Sullivans created the Pratt Center — Fostering Success and Leadership, which provides support services for current CSU students who have exited foster care.
Sullivan-Deckard Scholar MaryAnn Dowdell shared her story, noting that of 700,000 foster youth in this nation, only three percent are accepted into college. Of that, less than one percent graduate.
"The Sullivan-Deckard Program has raised those odds," she said. When she graduated three days later, Dowdell was the third Sullivan-Deckard Scholar to do so.
Vice President to Retire
Berinthia R. LeVine, vice president for University advancement and executive director of the CSU Foundation, will retire June 30. She was appointed to her position in 2011 and has focused on creating a culture of philanthropy.
LeVine reorganized and modernized CSU's fundraising and alumni engagement operations. The CSU Foundation Board of Directors expanded its size and focus, adding active fundraising to its investment management oversight duties.
Under her leadership, philanthropic support has reached new levels with significant growth in annual and major gift fundraising.
Radiance has raised nearly $10 million to support scholarships and student success since starting in 2011.
ENGAGE: The Campaign for Cleveland State University was CSU's first-ever comprehensive campaign. It surpassed its $100 million goal two years ahead of schedule, raising more than $114 million for scholarships and student success initiatives. 
During her tenure, the University has made a concerted effort to reconnect 126,000-plus alumni with their alma mater and build relationships with students who are future alumni. This has resulted in alumni engagement that is at an all-time high with graduates participating in events and activities in Cleveland and cities across the country.
"The generous support of our donors, particularly for scholarships, is changing students' lives and helping the University provide the best possible Engaged Learning experience. I have been thrilled to be part of an institution that is so vitally important to Cleveland's future," she says.
The University is conducting a national search to identify a new leader for advancement.
Thanks to everyone who helped make CSU's sixth-annual Giving Day another record-breaking success! Nearly 2,000 donors made gifts totaling $305,000 in a 24-hour period — shattering last year's $269,000 total. Read more >>