Were you one of the many alumni who came home to CSU for Homecoming 2018? For those that came from near and far, thank you. We enjoyed talking with you, sharing memories and showing you all that CSU has become.
For those who couldn't make it this year, we missed you. But we look forward to connecting with you throughout the year.
Homecoming highlights included a people-powered parade from Krenzler Field down Euclid Avenue to the front lawn of Mather Mansion. Led by Grand Marshal President Harlan M. Sands, the parade featured representatives from numerous student organizations and the Shaw High School Marching Band. The parade culminated in a lively VikeFest celebration of food, music and fun.
Other special events included the Distinguished Alumni Awards, the Golden Apple Awards, and a Golden Anniversary reunion brunch.
The Young Alumni Council initiated the Golden Apple Awards four years ago to honor the many faculty and staff who impact students on a daily basis. The award provides recent graduates with the opportunity to reflect on the special individuals at CSU who influenced their lives and to say thank you in a very special way. More than 75 honorees were nominated this year, some multiple times.
At the 50th reunion brunch, members of the class of 1968 browsed through yearbooks and memorabilia, reminiscing about fun social activities, influential professors, and all of the positive influences that CSU and Cleveland-Marshall College of Law had on their lives. 
Click here to see a collection of images from Homecoming 2018
For some, it was the first trip back to campus since they graduated. A "Then and Now" presentation highlighted just how much the campus has changed from small, private Fenn College to the large, vibrant, public university that CSU is today.
Following the presentation, reunioners came forward to receive a medallion honoring their 50th anniversary and share a memory about their time at CSU.
To wrap up the day, some took a walking tour to personally experience all the changes to campus. There were many smiles and stories as alums experienced places that meant so much to them.
More than 20 Homecoming Events Kept Alumni Hopping!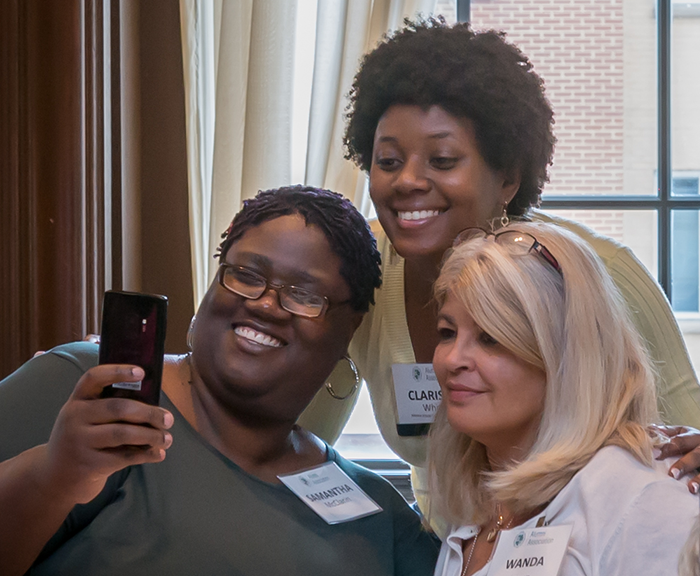 Behind-the-scenes visits to well-known (and little-known) Cleveland sites...fun-filled family outings...world tours...the CSU Alumni Association's calendar of events has something for everyone. Read more >>