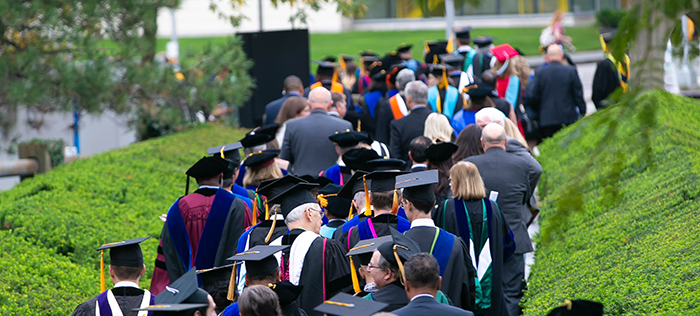 CSU Moving Forward Together
Noting that he has "always liked challenges with big opportunities attached," Harlan M. Sands officially took on the greatest challenge and opportunity of his academic career – serving as president of Cleveland State University.
"Let's dream big – together," he urged an enthusiastic crowd of over 700 students, faculty, staff and community members filling Waetjen Auditorium, as well as hundreds more watching online, as he took the oath of office and was formally installed as CSU's seventh president.
In his investiture address, Sands committed to building on CSU's unique position as a nationally recognized public urban research university and pledged to strengthen its mission to provide accessible, high-quality, career-focused education and research. He also stressed the importance of expanding Cleveland State's identity as a key anchor institution for Northeast Ohio and a beacon for upward mobility for all.
"Together, we will expand our reach as both an anchor and beacon, working to grow our already impressive brand," he said. "Together, we will continue to serve our community with our unique mix of high-quality, affordable and accessible academic programs that transform lives."
He also stressed the importance of every member of the CSU community in helping to make these goals a reality.
"As we build our CSU of tomorrow, it is clear that our future will be defined . . . by our people. Together, we will define our own future and not let the future define us," he said.
While Sands began his tenure June 1, his formal investiture was an opportunity for the CSU community to celebrate the beginning of the next chapter in the University's history while also allowing the president to outline his vision for the future of the institution.
Sands called CSU, at just "54 years young," an "incredible success story. And we don't have any intention of slowing down!"
He cited core principles at the heart of CSU. "We are – and always will be – about putting students first. We will always lead in providing affordable and accessible education to the largest number of students that we can. We are a faculty of scholar/teachers committed to the urban mission; we are students that have grit, energy and drive, with the ambition to fully achieve the American dream; we are staff who are devoted to supporting faculty and students in their vital work. We are an institution of incredible breadth, depth and quality that belies our youth. We are a University and city of collaborations and partnerships. We draw strength from each other."
Sands pledged to use CSU's position as an anchor institution to propel the city and region forward. That includes increasing the number of local high school graduates who attend CSU and doing everything possible to ensure they graduate.
"We will double down on our work with local community college partners to establish new and enhanced college completion pathways. We will increase our presence in high schools and on community college campuses," he said. "Nowhere is this added intentionality more needed than in the Cleveland Metropolitan School District."
To help students graduate from CSU in a timely manner, Sands believes "we will need to better integrate our student recruitment and retention efforts and invest in the kinds of retention support activities that work: summer immersion programs, mentoring programs, intrusive advising, success coaching, and what I call business intelligence — the ability to use state-of-the-art data systems and predictive analytics to tailor support services to specific student needs."
Sands said that as a beacon institution, the University will engage in aggressive student recruiting, becoming a first-choice destination for students from outside the region, across Ohio, other states and overseas. And CSU will continue to build on its Engaged Learning educational experience to prepare students for jobs in Northeast Ohio.
"A top priority will be to expand co-op opportunities. Our goal – to guarantee any student who wants a co-op experience at CSU gets one at a company in Northeast Ohio," he said.
Sands believes CSU also must provide regional leaders with ideas that foster urban revitalization, economic development and public health. And CSU must serve as a cultural and intellectual center for metropolitan Cleveland.
The theme for the investiture celebration was Forward Together.
"Together, we will build a best-in-class research and teaching university known for its groundbreaking cradle-to-career programs that expand the boundaries of academic creativity and innovation," he said.
The investiture of a new university president is a festive event, steeped in tradition. CSU's ceremony began with a procession of participants in full academic regalia from the Student Center to Waetjen Auditorium. Those marching included the platform party and delegates representing academic institutions throughout the nation. Following the ceremony, the participants and audience members processed down Euclid Avenue to the Student Center for an all-campus reception.
Dignitaries delivering greetings at the event included Congresswoman Marcia Fudge, Cuyahoga County Executive Armond Budish, Cleveland Mayor Frank Jackson, Eli Capilouto, president of the University of Kentucky, and Mark Rosenberg, president of Florida International University.
President Sands' parents, sisters, wife Lynn, sons Samson and A.J. and other family
and friends were also in attendance.