In Tribute to the Public Service
David Abbott, executive director of the George Gund Foundation, was honored with the Maxine Goodman Levin College of Urban Affairs 2018 In Tribute to the Public Service Award.
The annual award was established in 1985 to honor individuals who demonstrate exemplary leadership in public life and contribute significantly to the betterment of the community. Over the past 33 years, the program has saluted 38 individuals who have made significant contributions to public service in Greater Cleveland. Proceeds from the event support scholarships for the next generation of public servants.
The George Gund Foundation is a grantmaking organization. Abbott oversees its work in the arts, community and economic development, education, the environment, and human services. Prior to joining the Foundation, he served as president of University Circle Incorporated and executive director of the Rock and Roll Hall of Fame and Museum.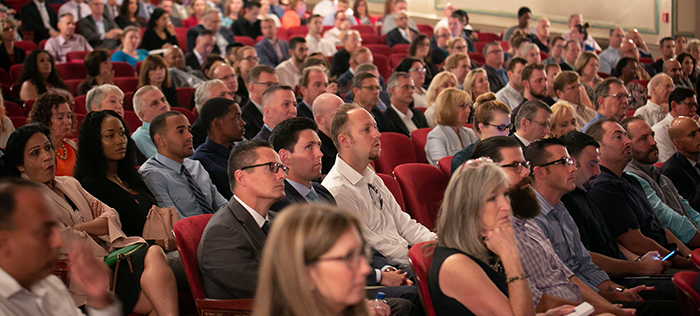 The Bernie Moreno Center for Sales Excellence at Cleveland State University launched with an inaugural event featuring Robert Cialdini, widely regarded as the worldwide expert on influence and persuasion. The author of the groundbreaking books Influence and Pre-suasion discussed how to increase the likelihood of getting "yes" to requests, proposals and recommendations. Read more >>